I bought this amp back in 2006 from Rudy's and played it pretty steady for a year. After that, my band broke up and I used it sporadically until the past year. It was serviced last year by Bogner in CA and used only a handful of times since.
The head is 2 channels, 80 watts, uses EL34 tubes, and comes with the footswitch and a custom cover. More details on the head can be found on any gear website.
I truly love this amp, but my sound has changed over the years and it deserves to be a part of somebody's main rig. If you'd like to hear it, we can schedule a time for you to play it over at my rehearsal space in Brooklyn as I moved here recently from LI. While I'd like to get my money's worth, I'm open to negotiation. No trades and cash only.
I also have a true bypass loop pedal that has the Bogner footswitch wired into it, as well as loops for 7 other pedals, (I think). It's been awhile since I've pulled that out of storage but if interested, I could sell that for an extra $150. It was custom made for $300.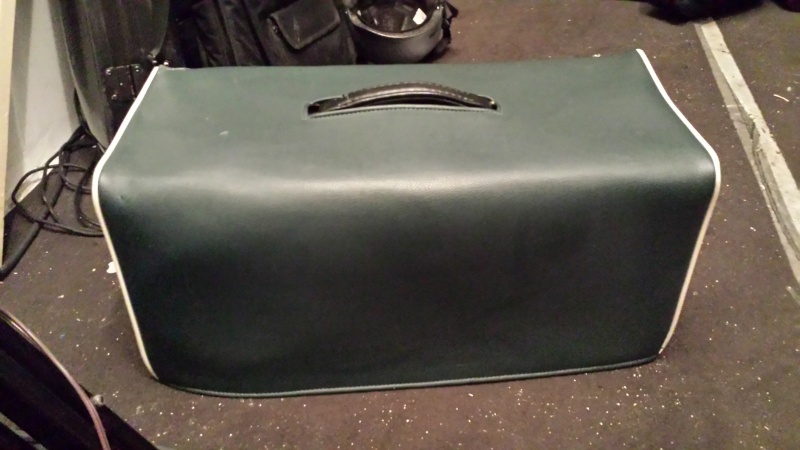 Here is the official description:
The Bogner Shiva Head with Reverb tube guitar amplifier head packs a lot of punch into a very portable package that sounds great with your favorite speakers! The Shiva Head with Reverb sounds fantastic, with two channels (each with its own reverb control), a tube-buffered effects loop, and global master volume and presence controls. Its EL34 power tubes provide enough British character and midrange detail to cut through any band. Dial in your two favorite tones and switch between them with the included footswitch, which also lets you access the boost and reverb functions onboard the Shiva Head with Reverb.
Bogner Shiva Head with Reverb 2-channel Tube Guitar Amp Head at a Glance:
Stellar tone, handy features
The man behind the amps
Handcrafted quality
Stellar tone, handy features
This 80-watt tube amp head uses EL34 power tubes and individual reverb controls on each of its two channels, allowing you to dial in and control two individualized sounds - and access them via a handy footswitch, which also includes boost- and reverb-switching functions. Shiva includes a tube-buffered effects loop plus global master volume and presence controls.
The man behind the amps
Though Reinhold Bogner began designing and building amplifiers long before leaving Germany for the U.S. in 1989, his career really took off soon after arriving in Los Angeles. He quickly gained the trust of many influential players, including Steve Stevens, Dan Huff, Allan Holdsworth, Mike Landau and Steve Vai, who sought out his skill at modifying and custom building their amps. Eddie Van Halen entrusted Reinhold to overhaul and revitalize his number one Marshall Plexi, with great results. Soon after, Bogner Amplification was born, and the rest, they say, is history.
Handcrafted quality
Bogner amps and cabinets are handcrafted, using only the finest components available. When you plug into a Bogner, you're not simply getting premium tone; you're getting the value of a piece of gear that's made to be played for years to come and built to handle the rigors of the road. From speakers to pre- and power amp designs, cabinets to cosmetic touches, Bogner amps and cabs are built to give you the best, most reliable playing experience, period.
Bogner Shiva Head with Reverb 2-channel Tube Guitar Amp Head Features:
Footswitchable 2-channel all-tube design
Footswitchable boost, variable on channel 2
Tube-buffered series effects loop
Channel 1: Bass, Treble, and Volume controls, Bright switch
Channel 2: Bass, Middle, Treble, Gain, and Volume controls, Bright switch
Global Master Volume and Presence controls
Functions on footswitch: Channel switch, Boost, and Reverb
80-watt EL34 power amp section
Reverb with independent reverb level controls for each channel
The Bogner Shiva Head with Reverb is great for stage or studio!
Thanks!



Posts

: 1


Join date

: 2014-11-14



I'll bet this is the Ryan Hare that I know from Oneonta!
Hey dude!
Sorry. You probably got excited that this reply was about purchasing your head. But nope... just Richie B saying hi.



Posts

: 2


Join date

: 2014-12-16





Similar topics
---
Permissions in this forum:
You
cannot
reply to topics in this forum